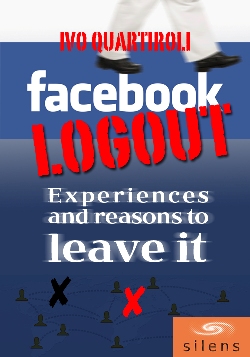 Facebook Logout: Experiences and Reasons to Leave it is available to download as a free eBooklet in different formats at Smashwords. Also is available at different ebook stores as Barnes & Noble and Kobo.
A special thank you to the contributors.
This is the Table of Contents:
Chapter 1: Musings about Facebook
The Quality of Relationships
Privacy Issues
Children
Facebook Changes the Concept of Friendship
The Inner Reasons to Leave
The Logout Process
Chapter 2: Logout Experiences
All Your Time or Nothing
This Time I Really Want to Leave it for Good
Bad Energy
Amplifier of an Inner Discomfort
Looking Through the Keyhole
An Affection-Compensating Tool
Boring to Death
Obsessive-Compulsive
From Village to Global Village
Reliving my Earlier Nightmares
Political Control
Not a Broad Communication
You Always Have to Feed the Beast
A Narrowed Down Tunnel-Vision Style of Contact
References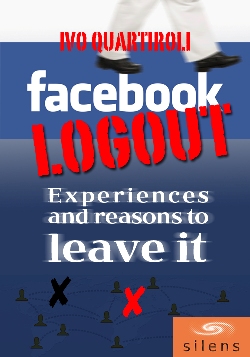 Facebook Logout: Experiences and Reasons to Leave it è disponibile in Inglese per il download gratuito in diversi formati a Smashwords. E' anche disponibile in diversi negozi online quali Barnes & Noble e Kobo.
Un grazie speciale a tutti coloro che hanno contribuito.
L'indice:
Chapter 1: Musings about Facebook
The Quality of Relationships
Privacy Issues
Children
Facebook Changes the Concept of Friendship
The Inner Reasons to Leave
The Logout Process
Chapter 2: Logout Experiences
All Your Time or Nothing
This Time I Really Want to Leave it for Good
Bad Energy
Amplifier of an Inner Discomfort
Looking Through the Keyhole
An Affection-Compensating Tool
Boring to Death
Obsessive-Compulsive
From Village to Global Village
Reliving my Earlier Nightmares
Political Control
Not a Broad Communication
You Always Have to Feed the Beast
A Narrowed Down Tunnel-Vision Style of Contact
References