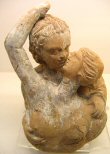 [en]
The liberation to be internally free in having sex the way we feel like or to be free not to have it doesn't come by merely acting out or by repressing the actual act, but by the level of awareness that we are willing to give our sexual needs, be them indulgence or asceticism.
With the pervasivity of porn we got desensitized towards sexual images and their relationship with our soul. In this overwhelming input towards sex in society, a certain kind of independent porn could paradoxically reveal the vulnerable, human side and the connection with introspection.
[/en][it]
La libertà interiore di fare sesso nel modo che vogliamo, oppure di non farlo, non dipende dalla semplice espressione o repressione dell'atto sessuale in sé, ma dal livello di consapevolezza che desideriamo portare ai nostri bisogni sessuali, siano essi l'indulgenza o l'ascetismo.
Con il dilagare della pornografia ci siamo assuefatti alle immagini sessuali e al loro rapporto con la nostra anima. In mezzo a questo sovraccarico di input sessuali nella società, un certo genere di pornografia indipendente potrebbe paradossalmente rivelare un lato umano e vulnerabile, e un legame con l'introspezione.
[/it]