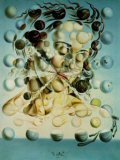 [en]
The speed of e-contacts and communication prevents the full assimilation of the messages we receive. Split and fragmentary attention has become the rule for online activities, but this procedure is gradually being exported offline. But the time needed for soul maturity goes much slower than electronics.
When we are not present with our aware attention, we are only passive containers of every message we receive. In this way, we are at risk of becoming simple consumers of messages which play on a banal emotional immediacy bypassing any kind of critical analysis.
[/en][it]
La velocità dei contatti e delle comunicazioni elettroniche impedisce la capacità di metabolizzazione dei messaggi che si ricevono. L'attenzione divisa e frammentaria è diventata la regola nelle attività online, ma questa modalità tende ad essere anche esportata offline. I tempi della maturazione dell'anima e della consapevolezza sono però assai più lenti di quelli elettronici.
Quando non siamo presenti con la nostra attenzione consapevole, siamo semplici contenitori passivi di qualsiasi messaggio che riceviamo. In questo modo rischiamo di diventare consumatori di messaggi che fanno leva su una banale immediatezza emotiva bypassando qualsiasi analisi critica.
[/it]