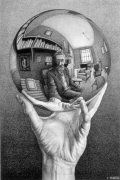 [en]
Meditation and staring at a screen share the same brain waves, but are actually different internal states. It seems that looking at a screen hooks people seducing them with a fake feeling of relaxation through the presence of alpha waves and even lower brain frequencies.
This relaxation, though, not being integrated with an attentive and aware observation of the contents of the mind (as happens in meditation) gives rise instead to an internal restlessness and stress, often unrecognized until it becomes full-blown.
[/en][it]
La meditazione e l'atto di fissare uno schermo attivano le stesse onde cerebrali, ma di fatto corrispondono a stati interiori diversi. Sembra che osservare uno schermo porti le persone in uno stato di finto rilassamento, tramite l'attivazione di onde alfa e di quelle a frequenza ancora più bassa.
Tale rilassamento, tuttavia, non essendo integrato da un'osservazione attenta e consapevole dei contenuti mentali (come avviene in meditazione), provoca stress e agitazione interiori, che spesso non vengono riconosciuti fino a quando non esplodono.
[/it]
Leggi tutto "Brain waves facing a screen, and meditation"