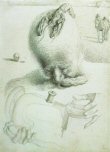 [en]
Human beings have always felt the need to give themselves to something bigger than their individualities: to art, to love, to a cause, to truth, to a guru, to God. When we devote ourselves to something bigger, we transcend ourselves, we go beyond our little narcissistic ego who would always like to be the center of attention. Dedication annihilates a part of ourselves and at the same time it lifts us up to another state of being.
We give ourselves, we trust and we nullify ourselves into technology. We are religiously devoted to the objects of technology, which absorb most of the time of an increasing number of people. As McLuhan wrote, "By continuously embracing technologies, we relate ourselves to them as servomechanisms."
[/en][it]
Gli essere umani hanno sempre sentito il bisogno di darsi a qualcosa di più grande della propria individualità: all'arte, a un amore, ad una causa, alla verità, a un guru, a Dio. Quando ci dedichiamo a qualcosa di più grande trascendiamo noi stessi, oltrepassiamo il nostro piccolo ego narcisista che vorrebbe sempre stare al centro delle attenzioni. La dedizione ci annienta da una parte e allo stesso tempo ci eleva da un'altra.
Ci diamo, ci affidiamo e ci annulliamo nella tecnologia. Siamo religiosamente devoti agli oggetti della tecnologia, che assorbe la maggior parte del tempo di un numero crescente di persone. Come scrisse McLuhan, "Ricevendo continuamente tecnologie ci poniamo nei loro confronti come altrettanti servomeccanismi."
[/it]
Leggi tutto "Mechanisms, mysticism and Amazon Mechanical Turk"