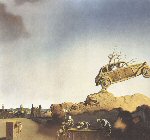 [en]
The New York Times article "In Web World of 24/7 Stress, Writers Blog Till They Drop" provoked a certain sensation on the Web.
Advertisements of cars still show them in the deserts or on isolated mountain roads. The reality: lines of heavy traffic, traffic lights, stress, costs, social isolation, poor quality of life. Even after many years during which cars went from being portrayed as symbols of freedom to the sardine cans that are imprisoning us, the image of freedom associated with them refuses to die.
But since a few years a new image of freedom in the collective mental imagery has been promised by advanced technologies, which permit us to be free from fixed timetables and workplaces. Wi-fi, Web on mobile phones, and always-on Internet connections promise to let us work when and where we want to, free from the obligations of time or place, with our laptop on the top of a mountain having an uninterrupted view in front of us.
[/en][it]
L'articolo del New York Times In Web World of 24/7 Stress, Writers Blog Till They Drop, che racconta la morte di un blogger per stress e la pressione a cui sono sottoposti i blogger, ha provocato un certo scalpore sul web.
Le pubblicità delle automobili le ritraggono tutt'ora mentre vengono guidate in deserti o in strade isolate di montagna. La realtà: code, semafori, stress, costi, isolamento sociale, bassa qualità della vita. Dopo tanti anni in cui le automobili sono passate da simboli di libertà a scatole di sardine che ci imprigionano, l'immagine della libertà associata alle automobili non muore.
Ma da alcuni anni, nell'immaginario collettivo, la nuova immagine di libertà è stata conquistata dalle tecnologie avanzate, che ci promettono di liberarci dall'orario e dal luogo di lavoro fissi. Wi-Fi, web sui cellulari, connessioni alla rete sempre attive ci promettono di poter lavorare quando e dove ci pare, liberi dalle costrizioni del tempo e dello spazio, con il nostro portatile in cima alla montagna avendo di fronte un panorama incontaminato.
[/it] Leggi tutto "The myth of freedom through technology"